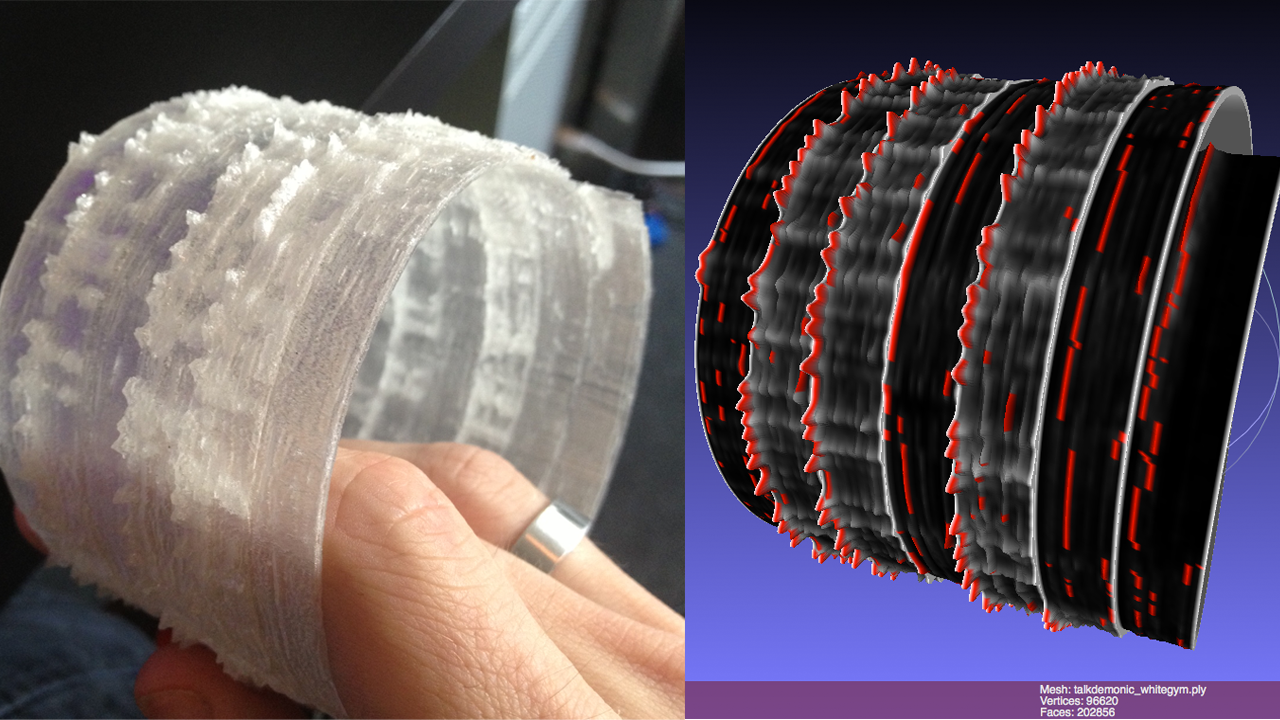 12 Jun

Sonic Prints

Using openFrameworks and ofxFFT to generate 3D Meshes of sound data for use in 3D printing.

This is very much a work in progress, but just wanted to share some initial results while I work on the final visual output. I have done some initial prints (see below) but have found that I'd like to make some much larger prints to be able to really get the detail out of the generated models. This project is interesting for me because it allows me to look at the structure of a song in a different way than a musical score or just a volume intensity graph like we're used to.  I can also play with the idea of making physical objects out of songs in a different way than burning a CD, pressing a vinyl or etching a wax cylinder.

We will be releasing the source after I get rid of a few bugs and clean a few things up, just need time to make those adjustments. Then you'll be able to tweak it and make your own 3D meshes for your own real-time music and sound input.

The meshes are set up like this: left is generally the bass/low end, right is high end. Red or orange marks are the loudest frequency band at that particular time. White to black shows the relative volume intensity of the particular time. I can adjust the number of frequency bands it is looking at and make it more coarse or fine.

If you would like one of the 3D mesh files to look at for yourself, I can send you a sample. The individual files are about 20mb so I don't want to host them here yet.

You can see some images of sample prints below, they are about the size of a bangle or bracelet.

Sample prints now available on Thingiverse

I have been doing this as a personal project and a side project where I work: www.fakelove.tv

3DFFT Sonic Prints – Work in Progress from blair neal on Vimeo.

3DFFT _Sonic prints example – Son Lux – "Easy" from blair neal on Vimeo.